27 Nov 11
Meeting outcome today
We will be posting the celebrate download tomorrow, but the decisions of the day are to provide $1000 to assist the person whose oil furnace, tank and chimney are not passing inspection. This is to assist them to get a propane furnace instead. In addition it was decided that another family who have insufficient wood and need more will be able to get our remaining 5 cords next Saturday if required. We are looking into helping a couple to get gifts to their children this christmas, and the lady who needed 11 cords of wood should be receiving them this week. Thank God we can help these people. Please pray for them as well.
8:49 pm est
26 Nov 11
Birchdale community dinner
SGC celebrate will be helping serve at the Birchdale community dinner. If you are helping please come to Birchdale at 4:45pm today!

THERE IS NO GOD ROCKS other than this activity tonight!

We may be driving dinner to people who need it afterwards!
9:50 am est
Oil Help escalated in severity
We have been told that the person not only needs oil, but their chimney, oil tank and furnace needs replacing! The need has gone from a simple oil need to a full re-fixing of their home need. So this Sunday we have a huge amount to discuss folk. SGC will be at 3pm as usual. Look forward to seeing you there! The inspector thinks this could cost $4000!!!
9:47 am est
18 Nov 11
NO SCG CELEBRATE ON SUNDAY THIS WEEK
NO SCG CELEBRATE ON SUNDAY THIS WEEK

Ken has to go to a funeral!

Please pray for the young family who has lost their father. Two children and a mother in Toronto.

Sorry but this is important for this family! We will continue next week as normal!
4:55 pm est
Last week, this Sunday and looking forward
Last week we had two accomplishments. We filled 10 shoe boxes for christmas for children who would otherwise not have got gifts and we completed the stairs for a lady so that she can be safe this winter as she goes into and out of her home.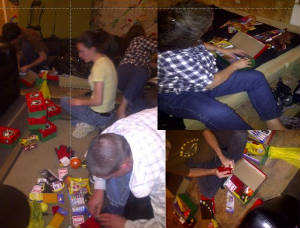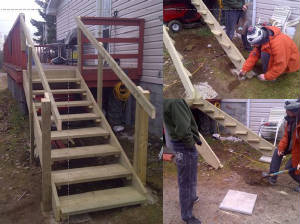 Thanks to everyone who helped.
We plan to assist help setup decorations for otehrs in the coming week and have organized that a lady get oil for heating as she cannot pay for it right now.
We plan to have SGC Celebrate this Sunday at 3pm but please watch this space as a friend of Ken has lost their spouse in a terrible accident yesterday (please pray for them) and he may need to attand a funeral.
God Rocks is as planned Friday (tonight and Saturday).
3:03 pm est
10 Nov 11
FInishing the Stairs and buying items for the childrens Christmas shoebox gifts
SCGCelebrate plans to send 10 shoeboxes to needy children this Christmas and has dedicated $30/box to getting them filled and mailed to these unfortunate young people. Together with this activity we want prayer for the children.

This weekend we will go out on Friday night to buy the items for the shoebox. We will gather at 7:30pm at God Rocks and go into Hunstville from there to buy the items. We will come back and pack the boxes later that evening.

Then Saturday 10:00 am we gather at Ken and Penny's to load the trailer with the wood stair building kit for the lady who needs stairs replaced on her deck. We will go from SGCcelebrate location to the ladies home where we will spend a number of hours constructing the stairs and making the deck safer before the winter ice makes it dangerous. Please come and join us if you can, we need helpers!

ALSO SGC celebrate will be at 3pm Sunday as usual.

Have a wonderful blessed week!
8:19 am est
1 Nov 11
NEW PRAYER PAGE
We have added a new page that will track prayer requests but it has security on it. Please come to a SGC celebrate service to find out how to access the page or contact Ken.
6:02 pm edt
Climbing competition this week
We will be celebrating health and strength this Saturday at the Tour De Bloc climbing competition at Joe Rockheads. SGC celebrate will occur as planned on Sunday!
5:36 pm edt
1/2 roof completed Saturday
One Saturday we were able to Roof about 1/2 of a shed that needs to be completed before winter. In about Three weeks time we will be able to complete the rest. Thanks to Ken for assisting us!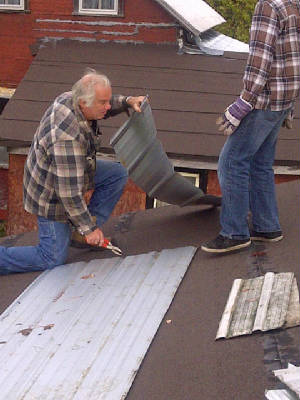 5:34 pm edt