23 Oct 11
AFT successs!x
The day at AFT was a success if a bit noisy! :) Fun was had and we arrived back by about midnight Saturady!
1:56 pm edt
17 Oct 11
NEXT WEEKENDS EVENTS
SGC celebrate will occur next weekend as planned, however, God rocks will only be Friday as twelve of us are going to Acquire The Fire, in Toronto. (We will be seeing Thousand foor Krutch, Flame, and teh school of worship bands).

SATURDAY GOD ROCKS is cancelled due to this away event!

ATF gathering for the drive down is at Ken and Penny's at 5am Saturday morning!
8:54 am edt
JUDAS PURSES
SO far we have established the following fundings

-Taylor $350 in wood for heating and cooking
-Kathleen $172 in missions purse
-Shinara $172 in community needs purse
-Morry $892 in purse for stairs, food and improving community water supply

8:48 am edt
16 Oct 11
10 cords of wood now delivered!
10 cords of wood now delivered!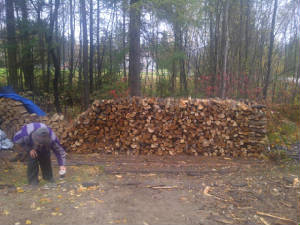 We have also bought the wood to build new stairs to enable an elderly person to get into their house with more ease this winter.
The handrail is up at the church!
12:25 pm edt
14 Oct 11
Work party for Saturday
Tomorrow we will need a work party to help put a roof on a shed for a lady who cannot do it herself. We meet at Ken and Pennys (see location at 10am). Please join us.
1:11 pm edt
9 Oct 11
SGC celebrate not having a celebration on Thanksgiving as too many people are away!

We wish everyone a wonderful bless thanksgiving with family and friends and thank God for the wonderful weather he provided.

Praise God!
8:39 am edt
2 Oct 11
SGC celebrate this afternoon 3pm
We celebrate this afternoon as usual. The activites this weekend were moving another cord of wood to the couple who needed it (becuase our supplier didn't have the full 20 cords needed and says he will have them next week). Our climbing was great. Wonderful view, wonder rock wonderful fun!

1:03 pm edt